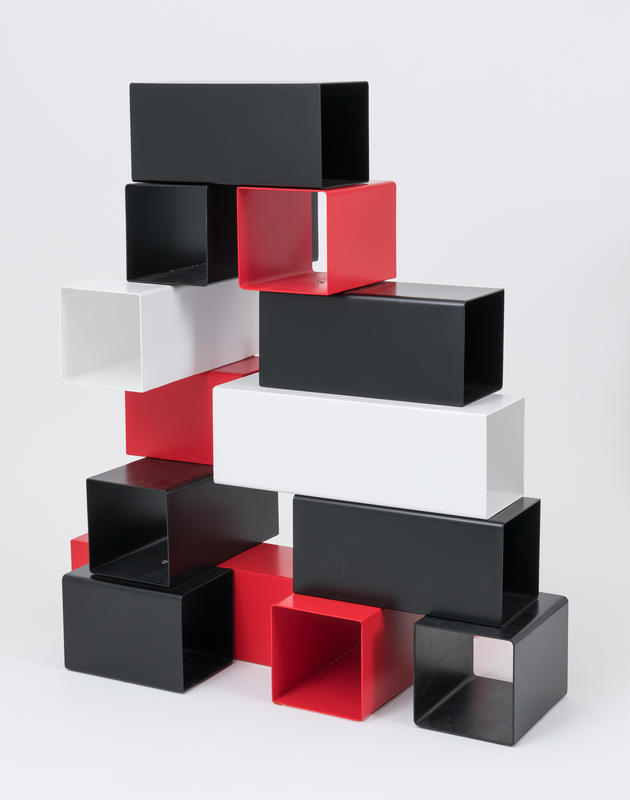 Artwork Detail
Ko tēnei tārai i wānihitia ki te whero, te pango, te mā – he tae Māori ki ētahi – ko tā Stack, 1988 he tohutoro hīanga te raranga i te reo tahanga o te tārai. Kitea ai te kaupapa arā, te mahi ā-ringa, i roto i te taitara me te hanganga ki te pū maitai ā-ahumahi. Me whakapau wā ki te whakaoti i te mahi e ai ki te ringa toi:
Me āta haere, ka titiro ki te mahi, ka haere atu, ka hoki mai. Ki te pīrangi koe ki te puta ki te ao mārama, ehara i te mea ka wawe te mārama. Me mahi tonu atu.
Mā taua āta huritao e kite ai i ētahi atu āhuatanga. Kei roto i taua kupu 'whakapipi' he hātepe whakaapaapa, he waihanga i te rōrahi me te auaha mā te hanga tonu.
Ko Matt Pine tētahi o te reanga tuatahi o ngā ringa toi Māori ki te haere ki tāwāhi ako ai i te kaupapa toi, i ngā tau tuatahi o 1960. Nā āna mahi ako, nā āna hāereerenga maha i whakaemihia ai ngā rawa, ngā ariā, ngā hātepe o te toi tārai hou ā-ao. I tāna hokinga mai ki Aotearoa i te tau 1974, nāna tētahi tikanga rerekē i whakawhanake, he tikanga i tīpako ai i ngā āhuatanga o ngā hanganga kiko, o ngā tikanga waihanga, o ngā kawa tārai o te hoahoa Māori, me ngā moutere o te Moana-nui-a-Kiwa hoki. Mā ngā take ōkawa o te tae, te taumaha, te rārangi, te auautanga, te wāhi tōrunga, te wāhi tōraro, e whakaahei ai ngā toi a Pine ki te titiro mā te karu hou, te kōhure o ngā whakahoutanga hoahoa, me ngā tikanga o Aotearoa.
Lacquered in red, black and white – often read as a traditional Māori colour scheme – Stack, 1988 playfully references raranga (weaving) in a minimalist sculptural language. Its title and construction in industrial steel tube are suggestive of manual labour. The work demands your time, as the artist once said:
You've got to slow down, look at it, go away, and come back. If you want to take it in, you're not going to get it in instant. You've got to work at it.
It is in this contemplation that the work draws out other readings. The word 'stack' also implies a process of layering, of creating volume and form through the act of construction.
Matt Pine was in the first generation of Māori artists to study art abroad in the early 1960s. His studies and extensive travels equipped him with materials, concepts and processes of international modernist sculpture. Upon his return to Aotearoa in 1974, he developed an idiosyncratic practice influenced by the physical structures, construction techniques and sculptural grammar of Māori and Pacific design. Through the formal concerns of colour, weight, line, repetition, positive and negative space, Pine's work offers a means to see the distinct design innovations and traditions of Aotearoa anew.
(Toi Tū Toi Ora: Contemporary Māori Art, 2020)
Title

Stack

Artist/creator

Production date

1988

Medium

lacquered steel

Dimensions

1263 x 650 x 1134 mm

Credit line

Auckland Art Gallery Toi o Tāmaki, purchased 1998

Accession no

1998/8

Copyright

Copying restrictions apply

Department

New Zealand Art

Display status

Not on display
---
To find out which artworks are available for print requests and reproduction please enquire here. This service only applies to select artworks in the Gallery's collection.
Request a print