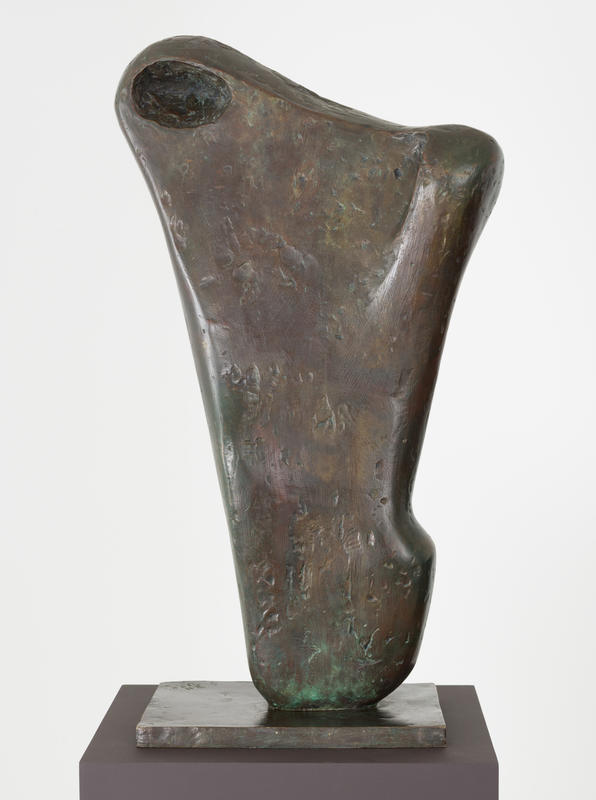 Artwork Detail
This work belongs to a group of three bronzes made in 1958. While Torso I (Ulysses) and Torso III (Galatea) were inspired by a visit to Greece, former director Peter Tomory first suggested that Torso II (Torcello) has links to the mosaic Virgin and Child from the ancient cathedral of S. Maria Assunta on Torcello, a small island in the Venice Lagoon. The Torcello Madonna shows an elongated Virgin Mary on an enormous scale, holding her infant child so that his head is raised above her left shoulder against a sea of gold mosaic. Describing her Greek visit Hepworth said, 'I remember standing on Patmos and thinking - with that incredible stretch of sea and islands before me - how intensely a figure rising in the distance expressed that perfect elevation of the human spirit which in a way is conveyed by a powerful sculptured form...' (Hodin: 'Barbara Hepworth', 1961, p.10) The Madonna is one of the most striking works remaining on the mainly deserted island of Torcello, and it is highly likely that resonances of her silhouette have merged, either consciously or not, with Hepworth's ongoing fascination with the natural forms drawn from the Cornish coastline.
Title

Torso II (Torcello)

Artist/creator

Production date

1958

Medium

bronze

Dimensions

900 x 520 x 150 mm

Credit line

Auckland Art Gallery Toi o Tāmaki, gift of George Wooller, 1963

Accession no

1963/17

Copyright

Copying restrictions apply

Department

International Art

Display status

Not on display
---
To find out which artworks are available for print requests and reproduction please enquire here. This service only applies to select artworks in the Gallery's collection.
Request a print