Sir William Fox K.C.M.G. (1812-1893)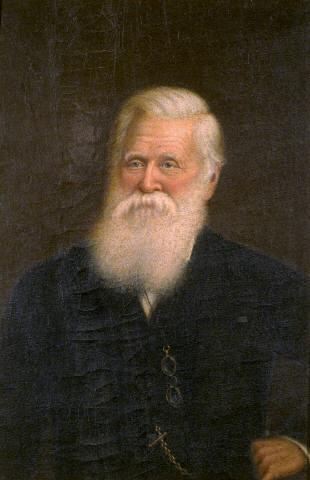 Elijah Aldis immigrated to New Zealand in June 1886. Prior to departing he worked as a portrait painter and photographer and was also the author of a book on Worcester Cathedral featuring 69 photographs. Shortly after arriving here he set up a studio and gallery in Coombe's Arcade, off Queen St, where he and his son Albert exibited their works and taught.
Aldis must have quickly established his credentials as by December 1886 he had commenced this portrait of Sir William Fox. He was commissioned to paint it by the New Zealand Alliance, a temperance organisation of which Fox was the first president. The New Zealand Herald commented of the then unfinished portrait "the likeness is exceedingly good and the expression thoroughly natural and characteristic. The figure can scarcely be said to be painted yet, and the accessories, which would make it stand out, are only roughly sketched, without colour. Sir William Fox certainly deserves some such honour as is here designed for him by the advocates of the temperance cause. For many years past he has given himself up to the advocacy of teetotalism, devoting to the cause knowledge and eloquence which in years past have gained him celebrity as a statesman."
Sir William Fox is the only person to have served as Prime Minister on four occassions. He was also an artist in his own right and made numerous sketches of his travels.
Title

Sir William Fox K.C.M.G. (1812-1893)

Artist/creator

Production date

1887

Medium

oil on canvas

Dimensions

1107 x 800 x 94 mm

Credit line

Auckland Art Gallery Toi o Tāmaki, gift of Mr John Buchanan, 1887

Accession no

1887/2

Other ID

0/191 Old Accession Number, OCM 994 Old Accession Number

Copyright

No known copyright restrictions

Department

New Zealand Art

Display status

Not on display
---
To find out which artworks are available for print requests and reproduction please enquire here. This service only applies to select artworks in the Gallery's collection.
Request a print