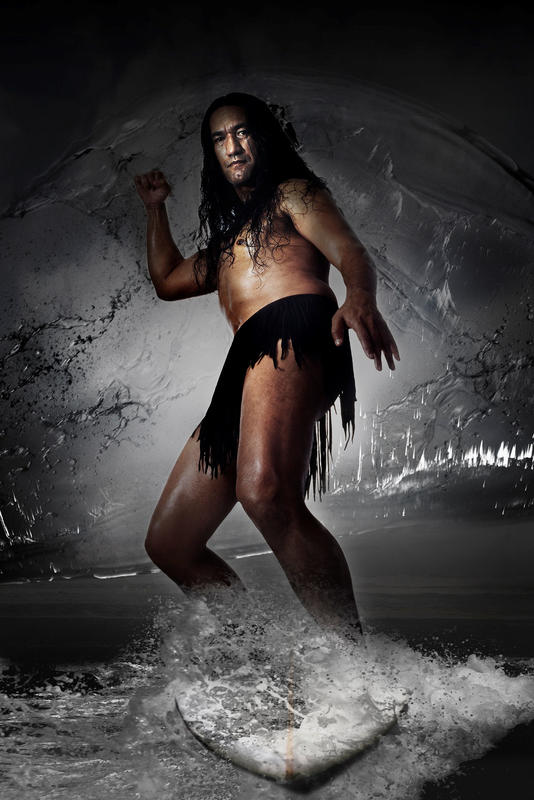 Artwork Detail
Digital Marae 2007 was selected for the 2008 Walters Prize. The project had a successful presentation at the Govett Brewster Art Gallery in 2007. The work was also recognised in 2009 in Doubletake The Anne Landa Awards for video and new media arts, presented at AGNSW.
Lisa's Digital Marae is an ongoing project named with a collective title to reference the spiritual and cultural space called the marae. This 2007 series explores masculinity, power and gender. The work is an investigation of turangawaewae (a place to stand) of creating and experiencing identity, in a virtual space. The artist summarises her approach to digital media and to ideas of identity with this statement.
If there is any Māori philosophy that I work with more than any other, it is that sense of community. I love people and the notion of community, friends and places to come together, so I utilise my work, digital and actual, to play around with that idea…
Lisa dramatically stages cultural concepts using iconic identities to play out her values and understandings of 'belonging'. She draws on contemporary signs and symbols to show and ongoing interest in identity and the place of identity in urban society. In this series, she employs Māori identities from the present-day atua and heroes from Māori culture. The heroic identities evoke her communities-- family, the inner city, the ancient and historic and are proudly Māori people.
Maui is a shared atua or god across Polynesian, for he appears in origin stories across the Pacific. He is surfing a giant wave, the popular sport attributed to native Hawaiians.
Title

Maui

Artist/creator

Production date

2007

Medium

digital photograph printed on Fuji Crystal Archive resin coated paper mounted on 4mm aluminium

Dimensions

2000 x 1200 mm

Credit line

Auckland Art Gallery Toi o Tāmaki, gift of the Patrons of the Auckland Art Gallery, purchased with assistance from the Gallery, 2010

Accession no

2010/25/6

Copyright

Copying restrictions apply

Department

New Zealand Art

Display status

Not on display
---
To find out which artworks are available for print requests and reproduction please enquire here. This service only applies to select artworks in the Gallery's collection.
Request a print