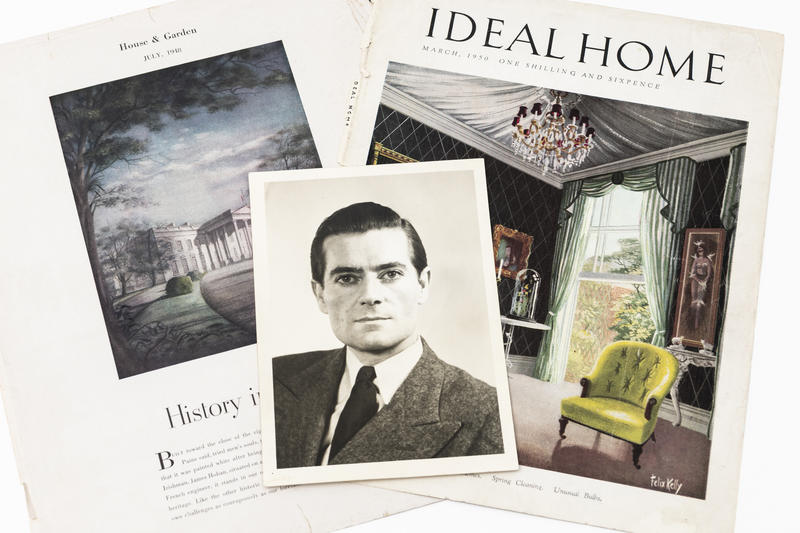 Archive Collection Detail
Felix Kelly (1914-1994) was an expatriate Aotearoa New Zealand artist, who lived and worked in both England and the United States. Leaving New Zealand as a twenty one year old never to return, Kelly worked in advertising and then began a career as a painter, illustrator and set designer. His style has been described as surrealist and neo-romantic with his subjects ranging from cartoons to imagined landscapes through to the country houses of the aristocracy.
This archive is predominantly the research papers of Dr Donald Bassett with the addition of some original material given to him by the sister of Kelly's life partner, Vernon Russell-Smith. Bassett published Fix: The Art and Life of Felix Kelly in 2007 and subsequently collaborated on a touring exhibition on the artist.
The archive consists of original drawings, a complete set of Kelly exhibition catalogues, photos and negatives of artworks, media clippings, books, dust jackets and cards featuring Kelly's illustrations, and Bassett's correspondence with acquaintances of Kelly and collectors of his work.
Creator

Title

Felix Kelly Archive

Date range

circa 1916-2016

Linear meters

1.20

Finding aids

Folder Level Listing

Credit line

E H McCormick Research Library, Auckland Art Gallery Toi o Tāmaki, gift of Don Bassett, 2022

Accession no

RC2022/3

Restriction type

Restricted Access

Copyright

Copying restrictions apply